HOW TOXIC IS 1080 to HUMANS?
4000kg of pure 1080 is enough to kill 2,840,000 people (Two million eight hundred and forty thousand people. And thats how much NZ currently uses per year.
1 teaspoon full is enough to kill over 100 people
A match head's worth is sufficient to kill one person.
1080 is linked to male infertility and miscarriages.
1080 is dangerous to human health in minute quantities - parts per trillion.
These sublethal doses can cause damage to organs including heart, liver, lungs, testes and kidneys. Organs with high metabolic demands (heart, testes) are the most affected(http://www.toxipedia.org/pages/viewpage.action?pageId=6015922)
Rare cancers have also been reported more frequently in areas of repeated use.
Pure 1080 is colourless, and odourless and is water soluble. Compound 1080 was the only chemical weapon reportedly found in Saddam Hussein's possession.
Handling procedures of 1080 have been lacking due care, and there have been reports of deaths and illness related to 1080 exposure which are never brought to justice.
1080's Silent Effects on Humans
Arthur Van Resseghem -
1080 Eyewitness 26th December 2015 "I loath 1080, once drank water that had 1080 in it, the result is unbelievable stomach cramps and pains that last for at least three days, they say water neutralizes 1080 but that is a lie. Water merely disperses it but it is toxic and does not disappear.
I advise anyone not to drink any river or creek water near a 1080 drop I hope this madness is soon stopped."
Women fall ill after 1080 drop
By Laura Mills of the Greymouth Star
3:16 PM Monday Sep 22, 2014
Two Reefton women who were caught in the bush as 1080 poison rained from the sky last summer are now both reporting ill health.
An official investigation into the incident has been reopened.
Sisters Gwen Gardner and Kathleen Bartlett were on Maori Gully Road, near Kokiri, having a picnic after checking out a property for sale, when a helicopter with a monsoon bucket flew overhead and dropped poisoned pellets around their vehicle. They were close by at the time.
1080: The secret poisoner
STUFF.CO.NZ TONY WALL AND BLAIR ENSOR March 29 2015
Graeme Sturgeon's arms and body are covered in a mass of boil-like protrusions - the result of exposure to Agent Orange when he was a machine gunner in Vietnam.
"I'm living proof that chemicals are bad for you," says the 66-year-old.
Fast forward a couple of decades to 1997, and Sturgeon is contracting to the Department of Conservation, evaluating drops of the poison 1080 in a remote part of the Whanganui National Park.
When the danger period had passed and the 1080 was believed to no longer be toxic, Sturgeon and a colleague flew into a remote hut to begin their post-poison evaluation.
On the fourth morning they lit a fire and boiled a billy, and were on their second or third cup of tea when they noticed the water smelt and tasted funny. Then they discovered a line of green scum in the billy, and realised "we'd bloody well been poisoned".
They climbed on to the water tank and were shocked by what they saw inside.
"We were greeted by the horrible sight of many rats floating around..their huge distended bellies now hairless and visibly full of 1080. The green dye of the 1080 was . . . leaching through the almost transparent belly skin of the rats, into the drinking water."
Sturgeon recalls it as the "worst run possum operation we ever saw", and has been a vocal opponent of 1080 ever since, so much so that he is one of the first people police visit when a 1080-related incident occurs.
Above: the video clip of the implications ...
Right: The toxin flight chart for the Hunua 1080 poison drop shows the poison was dropped directly into the streams that feed Auckland's water supply ...
Below Left: Dead possums, rats and deer contaminate water catchments and streams with 1080 and bacteria anywhere 1080 is dropped within walking distance because the poisoned animals seek water in their final hours.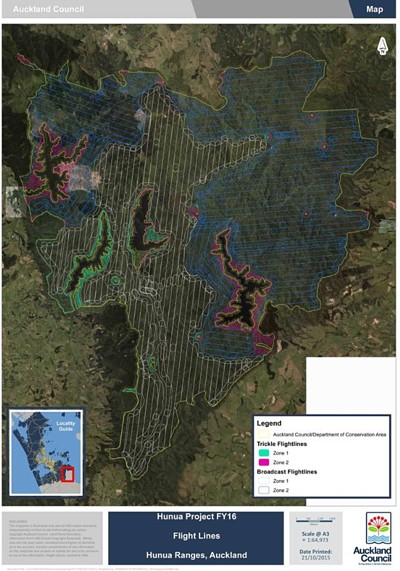 1080 is described ECOTOXIC because it can enter the entire food chain, not only toxic for wild animals, but for humans. Apart from the obvious risks of inhaling dust or handling bait, there is a far greater risk of health degradation through minute traces of the toxin in our everyday water supply and foods such as honey, milk and meat and fish through frequent yet undetectable sublethal doses through uptake of toxins through vegetation.
There have been several complaints of exposure resulting in illness, however these cases are never taken seriously or results transparently reported on.
One case of lethal poisoning New Zealand was recorded in the 1960s where a possum hunter died after accidentally eating 1080-laced jam bait.
Between 1946 and 1949, at least 12 humans died accidentally in the United States from 1080 poisoning when used as a rodenticide; a child became ill but recovered after eating the cooked flesh of a 1080-poisoned squirrel (EPA 1976).
Compound 1080 is highly poisonous to all tested mammals and to humans (Green 1946). There is no known antidote to 1080, and it has been impossible to resuscitate any animal or human during the final stages of 1080 poisoning (Kalbach 1945; Green 1946; Connolly 1989, 1993a). In the United States, 4 suicides and at least 12 accidental human deaths occurred in 25 years of use of 1080 between 1959 and 1969.
Compound 1080 is not recommended for use in residential areas or for distribution where the public may be exposed (Green 1946).
*Reference Biological Report 27 Contaminant Hazard Reviews February 1995 Report No. 30 SODIUM MONOFLUOROACETATE (1080) HAZARDS TO FISH, WILDLIFE, AND INVERTEBRATES: A SYNOPTIC REVIEW by Ronald Eisler Patuxent Environmental Science Center U.S. National Biological Service Laurel, MD 20708
Below: Published on Sep 23, 2015
On the 13th and 14th of September, 2015, the Department of Conservation aerially spread 1080 poison across 23,500 hectares of the Coromandel Peninsula. Enough poison was distributed to kill over 340,000 people.
DoC Drops 1080 Poison into Coromandel Water Supplies
Friday, 25 September 2015, 9:40 am
On the 13th and 14th of September, 2015, the Department of Conservation aerially spread 1080 poison across 23,500 hectares of the Coromandel Peninsula. Enough poison was distributed to kill over 340,000 people.
Dairy farmer Bevin Fox tells how he was provided no alternative water supply while his cows drank water sourced from within the drop zone. "The last poison drop we've had no water supplied at all, we've just been poisoned ... and then, suck it up and see, basically."